18 or 19 years ago my former youth pastor, Chip, approached me about going down on the streets of our town, Gallup, New Mexico to share the good news of Jesus with any and all who would listen. One thing that confirmed I had to participate was the day I was standing by the door of my workplace and instead of seeing customers walk in to do business, I saw them drop straight throught the floor into flames. Another event that confirmed I had to join Chip was when my wife and I were the librarians at our church. One night I discovered a box full of tracts in the bottom of a closet in the library. When I opened it, I did not think, "oh, let's see. Save or toss?" nor did I think, "oh, a box full of tracts!" I was quite surprised by my own reaction. "This is how many people who have not yet heard." For the next year, we did not have to purchase a single piece of literature for our street team.

Our team worked the streets of our town, never having more than three on the team consistently. The town used to be known as "Drunk-town USA" because the liquor industry was so strong there. People came from hundreds of miles to spend the weekend drinking as liquor was outlawed on the reservations. Each weekend the population of Gallup doubled. The police had two fleets of vehicles: cruisers and vans. The vans were to pick up drunks.

Consider this: when we began our ministry team, the liquor stores had drive-thru pick-up windows.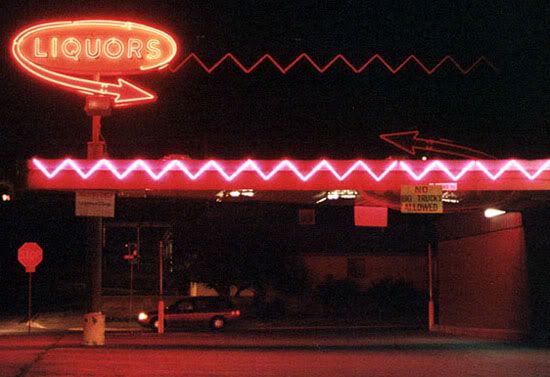 Alcohol sales eventually became disallowed on Sunday, but another problem developed. The folks who came into town on weekends had to get their drunk on somehow, so the supermarkets experienced extremely high sales of mouthwash and hairspray . . .

We hit the streets. After much time in prayer, we started hanging out on the sidewalk outside the Commercial Bar. Three of us. Two bouncers came out on our first night when they saw we had no intention of being customers. They talked to our friend Jack. Chip and myself had our hands full giving tracks to anyone, sober or not, sharing the gospel with anyone who could comprehend. At the end of the evening Jack was leading the two bouncers in prayer . . .

The owner of the bar did not like us too much (we never saw the bouncers again) and he started giving away free drinks to anyone who would bring him our tracts. We prayed God would shut him down. Week after week we visited the Commercial, the Round-up and dozens of other bars. When cold weather came, we brought blankets and jackets with us as people would just pass out and sometimes die of hypothermia.

Little did we know that when the Police came and picked up drunks for protective custody, our tracts were going into the police station. We met few other Christians down there sharing Christ and discovered there was a concerted effort to see people on the streets, those who came into town from the reservations, saved and area Churches had the same burden we did.

A year and a half later, God made it clear I had to go to Bible College. My wife and I left with our two baby girls and went to Bible College in 1990. I heard later that the Mayor of Galleup had become a Christian and was making some changes.

A couple of years ago I had the opportunity to go back home for a visit. Know what I saw? Clean streets, hardly a soul to be seen. The Commercial Bar had been destroyed and made into a parking lot, like a modern day Tyre and Sidon. The Roundup and another bar had been converted into churches. The liquor industry was still strong, but I don't remember any drive-thru liquor windows.

Since I moved in 1989, I've not had a clear witnessing opportunity that I can remember . . . Until last night. I admit I got so wrapped up in school and ministry and family I shut myself off from these witnessing opportunities. I now work in a Seminary and surround myself with Christian community--I've insulated myself from the world for the sake of ministry and academics.

God has been working on my heart the past few weeks about all this and yesterday afternoon God made it perfectly clear that I had an hour-and-a-half on Wednesdays and the same amount of time on Sunday set aside for the purpose of witnessing. God made it clear to me I had to do something when I went to church. By the way, guess where our church is located? Right in downtown Columbia. A few blocks from the State House.

About 4:30 in afternoon I was convinced I had to do this. There was nothing to pray about . . . God already said it was ok. I spent and hour and a half walking the block downtown last night(you can witness and preach in any place "America", but not on private property . . . but what if it is your church? Heh?) Before I left I picked up 50 tracts and stopped by the fellowship hall to see if anyone wanted to go with me. Some of my Sunday school class was eating dinner . . . I think I scared them. They didn't come.

As I went out, I prayed and actually made a few contacts. One guy I spoke with gave a most interesting reaction. He came toward me on the sidewalk and I asked him, "Hey there. Did you get one of these? It's a gospel tract."

He looked at it. "Sure."

"Got a minute I can ask you some questions?"

"I guess." He said.

"Would you consider yourself to be a good person?" And I began to witness.

When I got to the part about, "If you died in your sin, would you go to heaven or hell?" his eyes got really wide and he said, "Oh my gosh!" and took off running!

I've had my life threatened, been yelled at, shoved around, insulted. I've seen people crumble when they were "caught backsliding". I've seen people pray and be delivered--but I've never seen anyone run!

14 tracts were distributed and there were three clear gospel presentations with no repentances. I don't believe in "decisions" anymore as they foster more backsliding and false conversions (had they ever slid forward to begin with?)

I know I sound like I am tooting my own horn here but that is not my intent. I am excited. Very excited. I am excited about what God is going to do. I am exciting that God confronted me with my own complacency and changed my heart and opened my eyes to the obvious opportunities I have missed.

Here's what I would like to ask of you--Please pray for:

1. A committed team be raised to share the gospel right on our own sidewalks in Columbia, South Carolina. The weather is getting nice, time change cometh and that means more people will be out there;

2. Protection as we move through downtown as God leads;

3. Clear gospel presentations and for people to repent;

4. John 4 to be reproduced here in Columbia as it did in Gallup, New Mexico.

5. Please pray for my daughter and her friends because, you know what? When I talk with her again and if I ever see her friends again, I'm gonna ask them about their soul.

So, let me ask you . . . would you consider yourself to be a good person? Good enough to go to heaven . . . ?